Startups are extremely vulnerable in the current COVID-19 crisis. However, some of them may struggle a lot, while others might suffer less or even see many opportunities.
As expected, the crisis is impacting not only the startup businesses but also many individuals now. This layoff data tracker developed by Roger Lee has provided us with a new lens to observe which startup sectors have been most affected and which are less impacted. Even though the data might be incomplete, it still indicates a lot — to entrepreneurs and investors.
These layoffs can be caused by three levels of risks — (1) the systematic risks that apply to all companies: e.g. less spending, lower efficiency due to the work-from-home (WFH) policies; (2) the industry-specific risks that apply to companies from certain sectors: e.g. less physical activities for the travel and hospitality industry; and (3) the idiosyncratic risks associated with each company: e.g. poor management, bad go-to-market strategies, and previous overhiring.
After examining most of the companies that have laid off more than 30 employees (as of May 18, 2020), I have found a few surprising stories. Please be aware that the reasoning behind the layoffs as set out below is based only on my personal opinion, and not on any official statements.
If you cannot access the original layoff data tracker, feel free to download a copy of data here.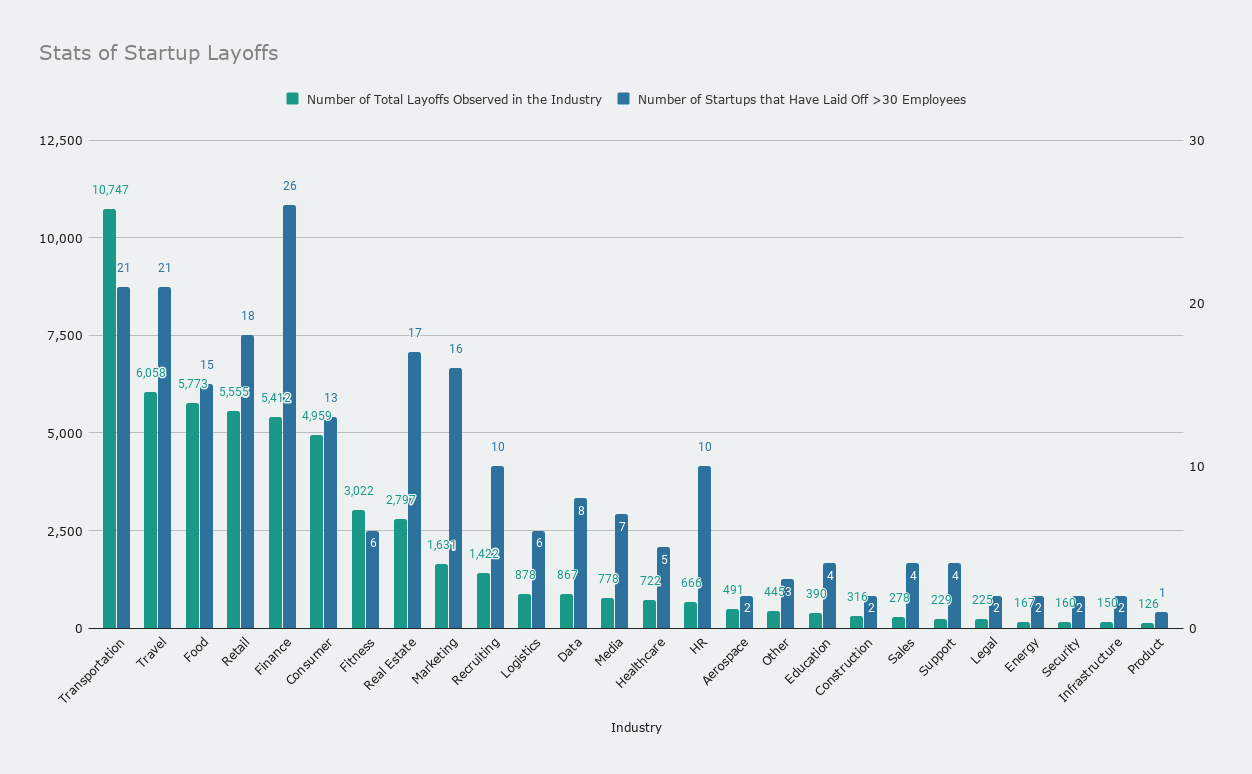 Unsurprising Stories
Transportation
It is fairly easy to understand why the transportation (mobility) sector has been affected the most by the number of total layoffs — since people are moving much less than before. However, it is interesting to note that the transportation (mobility) sector is heavily concentrated — Uber has contributed 6,700 layoffs to the total 10,747 cases in this industry, followed by Lyft (982), Careem (536), Jump (500), and Bird (406).
Besides the traditional mobility businesses, the autonomous vehicle (AV) businesses are also struggling. Being a high cash-burning business, AV is likely the first thing to be cut when the economy enters into a recession. Cruise, the AV company supported by GM, laid off 150 employees. Zoox, an AV unicorn, also cut 120 and is reported to be looking for sale. Waymo, Google's AV company, has not announced any layoff plans yet. But they also raised their first round of external funding this year.
Travel and Entertainment
Nothing needs to be explained here. Not only have the big travel companies such as Airbnb (1,900 layoffs), OYO (500 layoffs), and GoPro (200 layoffs) have been affected, but physical-event-related companies such as Eventbrite (500 layoffs) have to cut labor to survive.
Food and Retail
The reasons for layoffs in this industry are obvious — people are not shopping or eating in physical spaces. Food delivery orders overall may have dropped (while UberEats has seen an increase) because (1) people have time to cook now, (2) people need to save money, (3) some restaurants have shut down, (4) people have concerns about food safety during the crisis, and (5) there might be a lack of delivery drivers.
Additionally, technologies that serve these sectors have also been heavily affected. For example, Stoqo, which streamlines food supply chains by sourcing and delivering ingredients to small restaurants, shut down on April 28th. Another example, Ritual, a food ordering app for takeout for restaurants, has cut 196 employees primarily in their Toronto HQ but also in its U.S. locations. Restaurant365, which has developed cloud-based software focused exclusively on the restaurant and hospitality industry, also reduced its workforce. Touchbistro, a company providing POS software to restaurants, temporarily laid off 131 employees.
Fitness, Real Estate, and Construction
Gyms are all closed. Real estate-related activities decreased as people cannot visit the physical spaces. Construction-related activities are halted due to WFH policies and redirection of budgets towards more essential needs.
Surprises
Finance
It surprised me most to see that the finance sector has recorded the highest number of companies that laid off more than 30 employees. People might think fintech companies should have benefited from the crisis given the increased virtual payment volume and the increased demand for credit/cash. However, there are several potential reasons why many fintech (including insurtech) companies may be struggling in this crisis.
First, for the payment-related companies, if they are serving the physical merchants (retail stores, grocery stores, and street vendors), the fintech companies will struggle because of the decreased transaction volume from those merchants. For example, Stone, a Square-like card processor company from Brazil primarily serving SMEs/street vendors and IPOed in NASDAQ in 2018, just laid off 1,300 employees in May 2020.
Second, all the credit-product-based fintech companies are likely to struggle because default rates are expected to grow. Despite the increased demand for credit/cash from consumers/SMEs, the underwriting banks behind the fintech companies are tightening their approval standards as we would expect a higher default rate due to the increasing unemployment rate. Therefore, many credit-product-based fintech companies are facing challenges in this crisis. For example, Lending Club, a P2P lending platform, has laid off 460 employees. Renmoney, a microloan company from Nigeria, laid off 391 employees.
Lastly, insurtech companies might have also been affected as people have less to insure or are reprioritizing their spending. If people are not traveling/using cars, or have to reprioritize their spending to focus on the essentials in this uncertain environment, why would they pay for/renew their insurances? For example, Newfront Insurance, a digital insurance brokerage, laid off 94 employees. Acko Insurance also laid off 40–50 employees and implemented a 70% pay cut for the seniors.
Consumer
Most of the companies facing big challenges in the consumer service/product space are (1) the O2O marketplaces, (2) companies selling premium/luxury products, or (3) companies selling products related to travel or other physical activities. For example, Thumbtack, an O2O marketplace for local services like cleaners and plumbers, has laid off 250 people. Magic Leap, an AR/VR solution company, has abandoned its consumer business and cut 1,000 employees. GoPro, the action camera company, has cut 200 employees as people are less likely to spend on their products.
Marketing
It is fair to expect the overall marketing budget to drop since most companies are not focusing on growing revenue, but on saving costs now, based on what I learned from larger corporations. It is just a tough time for everyone in our society — every company and every individual is trying to save money in this uncertain environment, and therefore the return on marketing spend will likely be very low at this stage. For example, Sojern, an ad-tech firm servicing travel companies, has laid off about half its staff of about 600 employees. NextRoll, an adtech company, laid off 30% of its 700 global staff at the beginning of April as the company serves many small to medium-sized businesses, a category that has been heavily hit by the coronavirus.
Recruiting and HRtech
As companies are laying off or freezing their hiring plans, it is very understandable that the sales of recruiting or HR-related tech companies will drop. For example, ZipRecruiter laid off 400, Glassdoor let go of 300 employees, and Andela, a company connecting African engineering teams with US tech firms, let go of 135 employees. Bullhorn, another recruiting software company, laid off 100 employees according to their CEO's LinkedIn post.
Future-looking Technologies
As we are entering a recession, what will happen tomorrow matters much more than what will happen 10 years later. Cash-burning technologies that aim to change our lives in 10 years will be the first to be re-evaluated or cut for many companies.
Autonomous vehicle (AV) companies are the best example. As mentioned above, Uber is re-evaluating its cash-burning businesses such as freight and autonomous driving, on which Uber has spent hundreds of millions of dollars in recent years. Similarly, Cruise, the AV company supported by GM, laid off 150 employees. Zoox, an AV unicorn, also cut 120 and is reported to be looking for sale. Waymo, Google's AV company, also raised its first round of external funding this year. Starship Technologies, a delivery robot company, cut 30 employees. Starsky Robotics, an autonomous trucking company, just shut down in early April 2020.
Besides the AV players, some other advanced technologies might also face the same challenge — customers weigh short-term costs over long-term opportunities.
For example, Automation Anywhere, an RPA (robotic process automation) company that has benefited from the crisis with increased sales in cloud-based products, also laid off 10% of its workforce for many reasons. One of the reasons is that its technology still has a way to go before it achieves wide acceptance and sizable adoption, according to Charles King of Pund-IT Inc.
Another example, Astra, the San Francisco-area rocket builder, cut its overall headcount to about 120 employees from about 150 in March.
Sage Therapeutics, a biopharmaceutical company from Massachusetts, cut a little over half of its roughly 650-person workforce, sharply cutting back on spending in a restructuring.
Validity, a Boston-based customer data quality startup, has laid off about 130 employees worldwide.
DataRobot, an enterprise AI/ML platform, has cut an undisclosed number of employees to streamline areas to realign with their current business focus and go-to-market strategy.
Domo, a business intelligence (BI) software company, was forced to cut roughly 10% of its workforce due to the economic impact caused by the novel coronavirus outbreak. In all, about 90 people were laid off.
Magic Leap, an AR/VR solution company, has abandoned its consumer business and cut 1,000 employees.
OneWeb, a satellite internet startup, filed for Chapter 11 bankruptcy in March 2020 after its largest investor, Softbank, rejected a request for additional funding.
Unexplained — Idiosyncratic Risks
While most of the layoffs can be explained by the COVID 19 crisis, there are some companies that struggle while their peers are seeing tremendous growth. I would suspect the layoffs from these companies are more likely to be related to the companies' internal issues — broad focus, previous aggressive hiring/overhiring, low efficiency — rather than to the crisis.
For example, while many voice AI and chatbot companies have seen growth during the crisis due to the exponential growth of calls and empty call centers, Clinc, an Ann Arbor-based voice AI company, has laid off 32% of its employees.
Another example is Paytm, an Indian e-commerce payment platform, should have benefited a lot from the crisis as the online transaction volume increases sharply, but the company is reported to have laid off 500 employees.
Conclusions
It is almost certain that we are entering a global recession, and therefore the overall business activities will be halted. Hiring activities will be low, overall spending will be reduced, and cost-saving will be the new normal at least for the next one or two years.
For entrepreneurs and VC investors, what have the above layoff stories told us?
For those future-looking cash-burning technologies, the next two years will be the toughest time. These companies cannot self-sustain by generating revenue and it will be extremely difficult for them to raise capital in this environment. The reason is very simple: for their investors and potential buyers, surviving is more important than capturing future opportunities. Therefore, try to avoid building/investing in AV, blockchain, rocket, or satellite projects over the next 2 years.
The crisis is affecting the entire value chain of the affected industries but not just the dominants. For the travel industry, for example, it is not just Airbnb and TripAdvisor who have been affected. Upstream software companies serving the Airbnb owners or the travel companies are also heavily affected. Similarly, software companies developing software for restaurants are also at risk. Companies serving vulnerable SMEs are also struggling. Therefore, think twice if you are building something related to those deeply affected industries, try to avoid primarily targeting those sectors as customers, and try to avoid focusing on the vulnerable groups.
To business customers, saving costs might be more important than increasing revenue. As the recession comes, revenue growth is hard to predict/achieve, while saving cost is something that companies can immediately do. It could be a tough time for startups that are developing marketing technologies as many companies are reducing their marketing budget. It could also be a tough time for enterprise AI/ML startups unless the customers can save costs immediately by using the AI/ML software. All in all, customers just want to save money instead of spending on any unnecessary items. To survive, startups need to clearly present to their customers the expected ROI in 3 or 6 months.
Avoid idiosyncratic risks. There is already a huge systematic risk — the coronavirus crisis and the recession. Startups should really be cautious about their internal issues — from business strategies, product development, customer service, company culture, to day-to-day operations/management. Therefore, avoiding mistakes, learning from your competitors' mistakes, and waiting for opportunities patiently will be the best things that entrepreneurs can do for the next one or two years.
There can be exceptions. All the points mentioned above are general rules but not applicable to all startups. For example, even though the transportation/mobility sector has been heavily affected, we still see some potential opportunities in this space — for example, bicycles are becoming the new toilet paper because bike sales are booming as coronavirus lockdown residents crave exercise. Therefore, as long as the value to customers is clear and immediate, it is still possible to work on something around the affected spaces even in this tough time!