2020 is the year of ambiguity, uncertainty, and anxiety. Investors are being very cautious when making decisions, as no one knows where the world is heading to. However, it is the job of early-stage VC investors to figure out what the future would look like. Out of curiosity, I looked up the deals closed by the top early-stage VCs this year and hope to learn from them by finding out some clues and directions.
212 deals from 43 top-tier early-stage VCs (both international and local ones) are found from Crunchbase. You can find a list of VCs covered at the end of this article. Here are some interesting takeaways from my quick research.
See the full list of 212 deals with details here (Airtable).
Key takeaways
FinTech is still hot with companies applying existing technologies/business models to new markets/new demographic groups and solving niche problems
Much focus is on improving short-term productivity
Digitization is the new trend, with a focus on SMEs and emerging markets
Remote working is not just about video meeting but means an entirely new workforce management system and a totally different working experience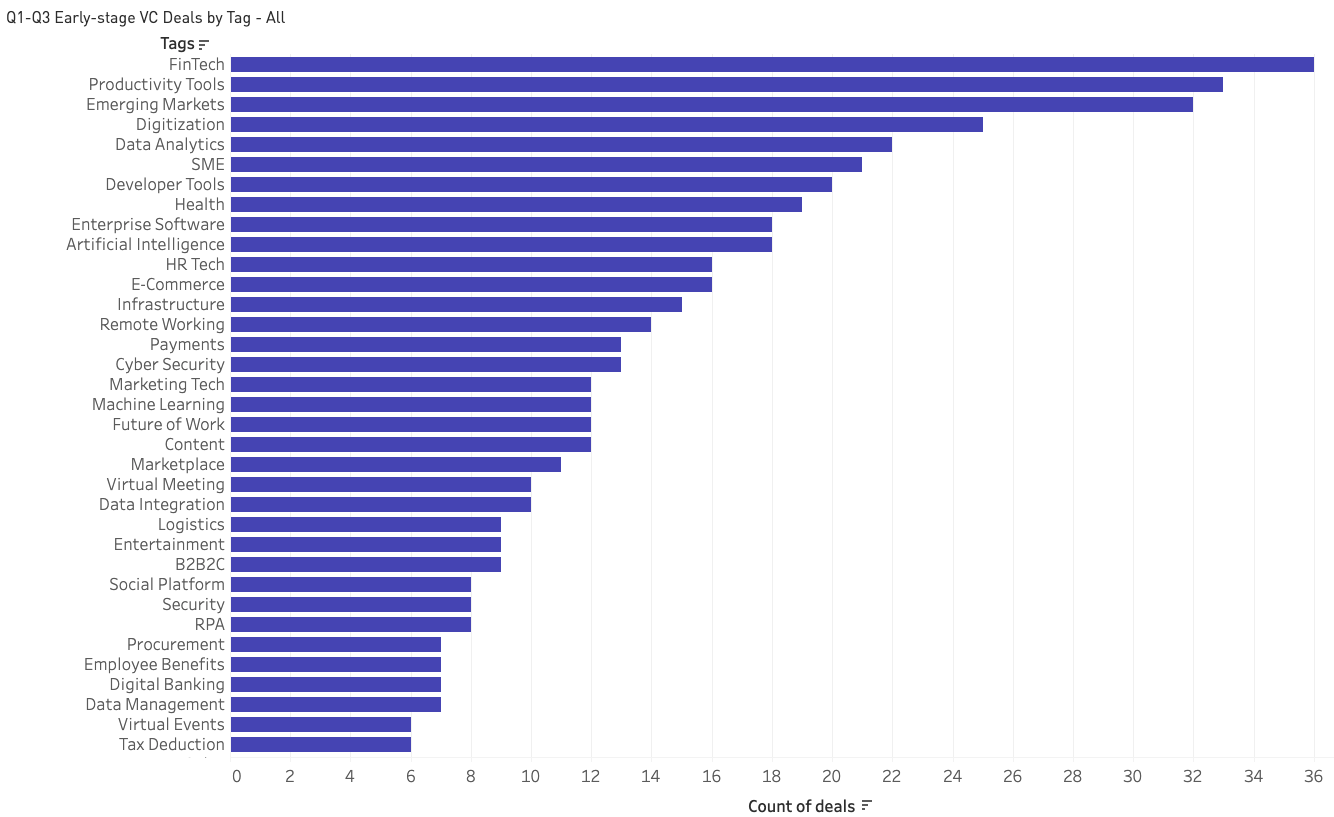 Trends
112 deals (111 companies) from the 212 deals are categorized into the following 7 trends.
Trend 1: FinTech is still hot with many replicates and variations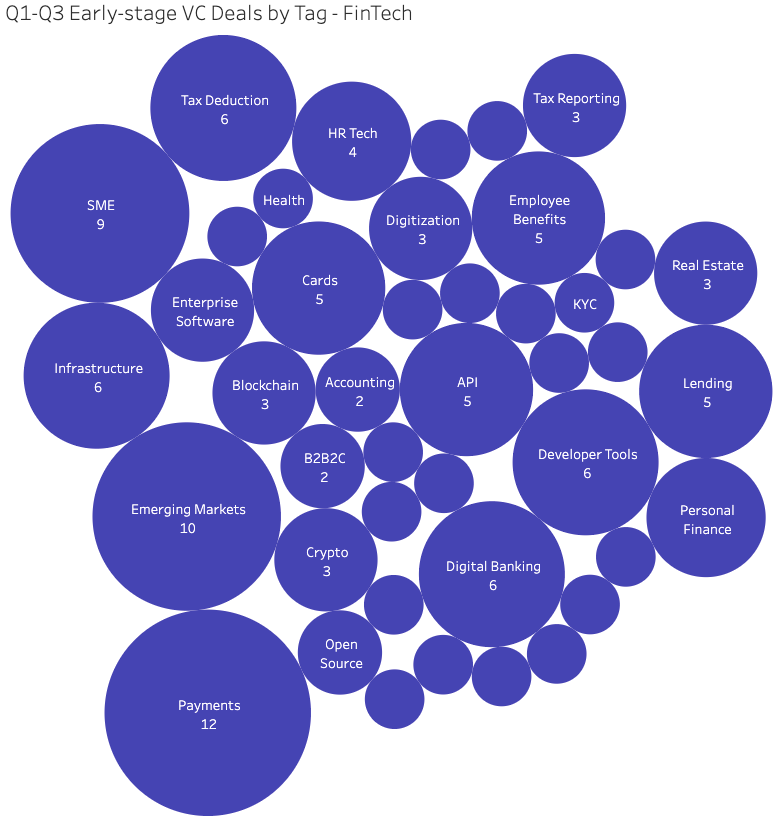 There are 36 deals from the FinTech space, which is the most active space. Many of these companies are still working around the traditional topics — payment solutions/platforms, digital banking solutions (mostly for SMEs), and wallets/cards (for both consumers and businesses).
For those companies focusing on the traditional topics, they are developing solutions for emerging markets such as UAE and India, traditionally underserved customer groups such as teenagers and SMEs, and new or niche use cases such as payment platforms for renters/landlords and patients/caregivers. You can call these startups N26 for Indian teenagers, Plaid for payroll accounts, Plaid for UAE, and Stripe for Brazil.
Overall, these companies are finding new markets and competing for market share with matured business models and technologies.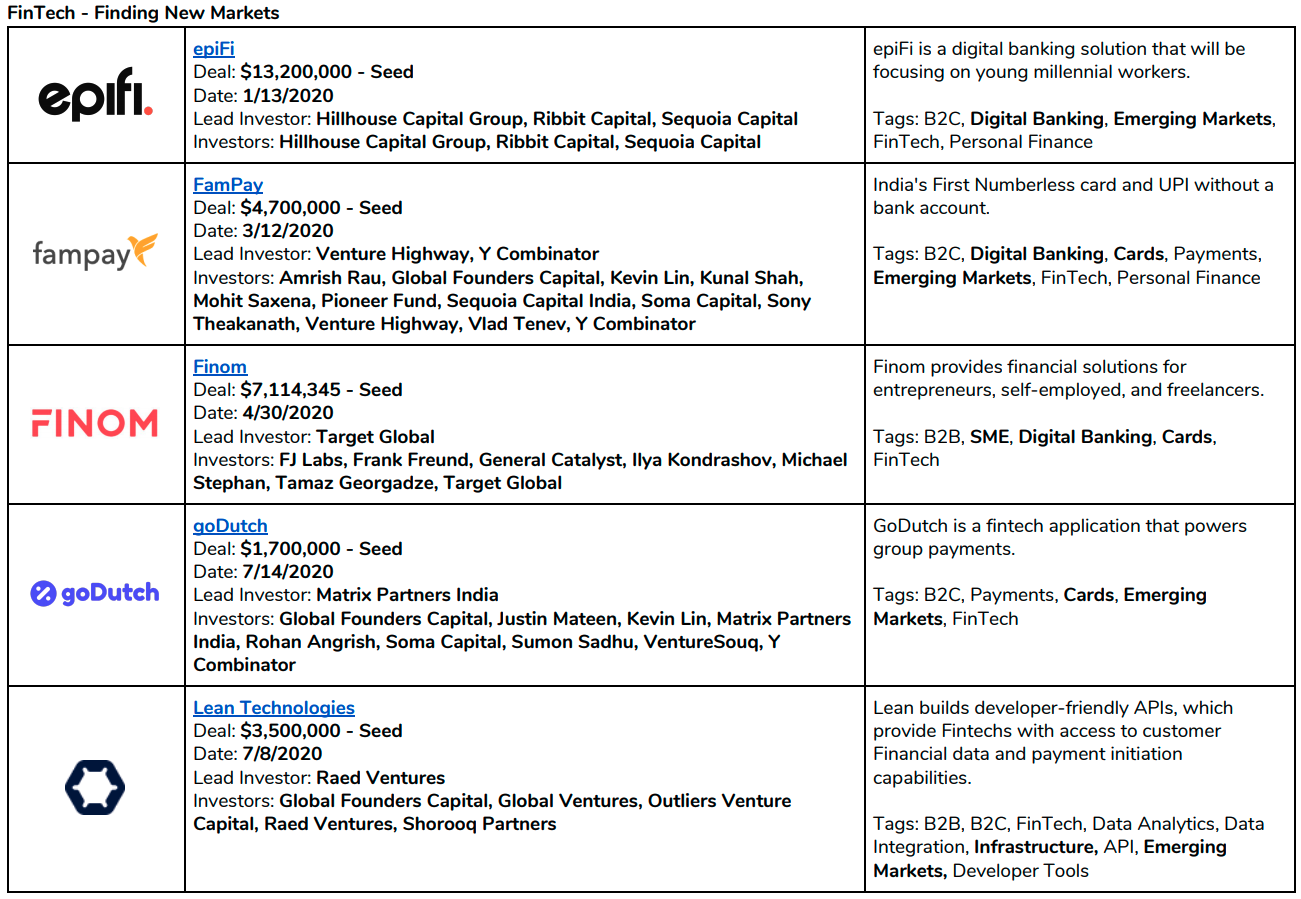 A growing space within FinTech is tax-related innovations. Tax-saving is not a traditionally popular space that many startups pay attention to. However, the problem is huge — companies can save billions of dollars if they plan their tax well and avoid tax by maximizing the tax benefits. 6 companies are working on innovations that can help companies and/or their employees to save tax. By having a better understanding of the tax policies in different markets and industries, these startups can help their clients to better plan, report, and avoid tax.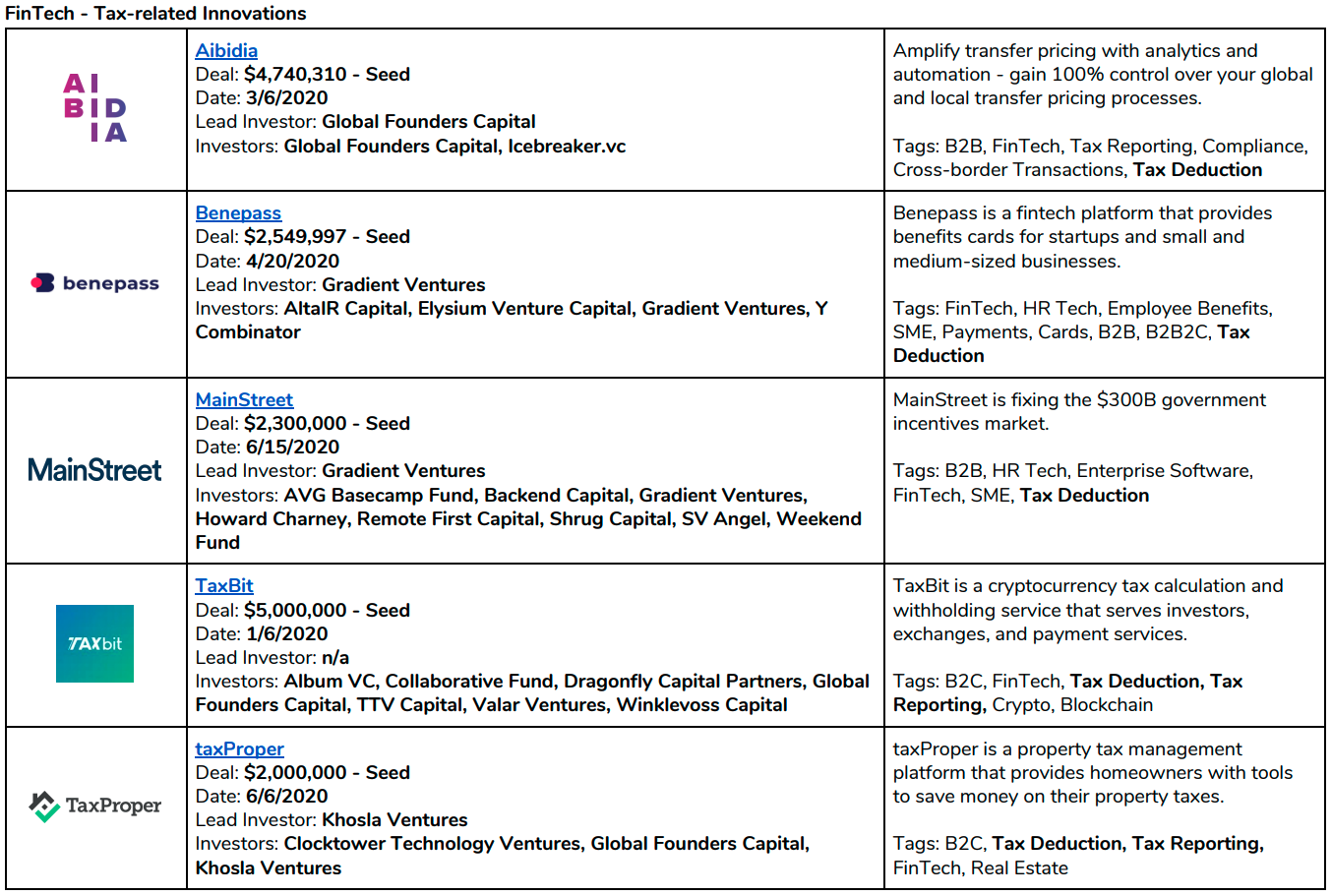 Another growing space is FinTech solutions targeting company employees. 6 companies are developing solutions that help companies to offer better employee benefits, help company employees save/earn more, and help company employees to get salaries early. These innovations include offering better retirement plans to employees, providing benefits to the global distributed workforce, working with companies to enable salary advance, and lending to company employees to maximize their companies' 401K match.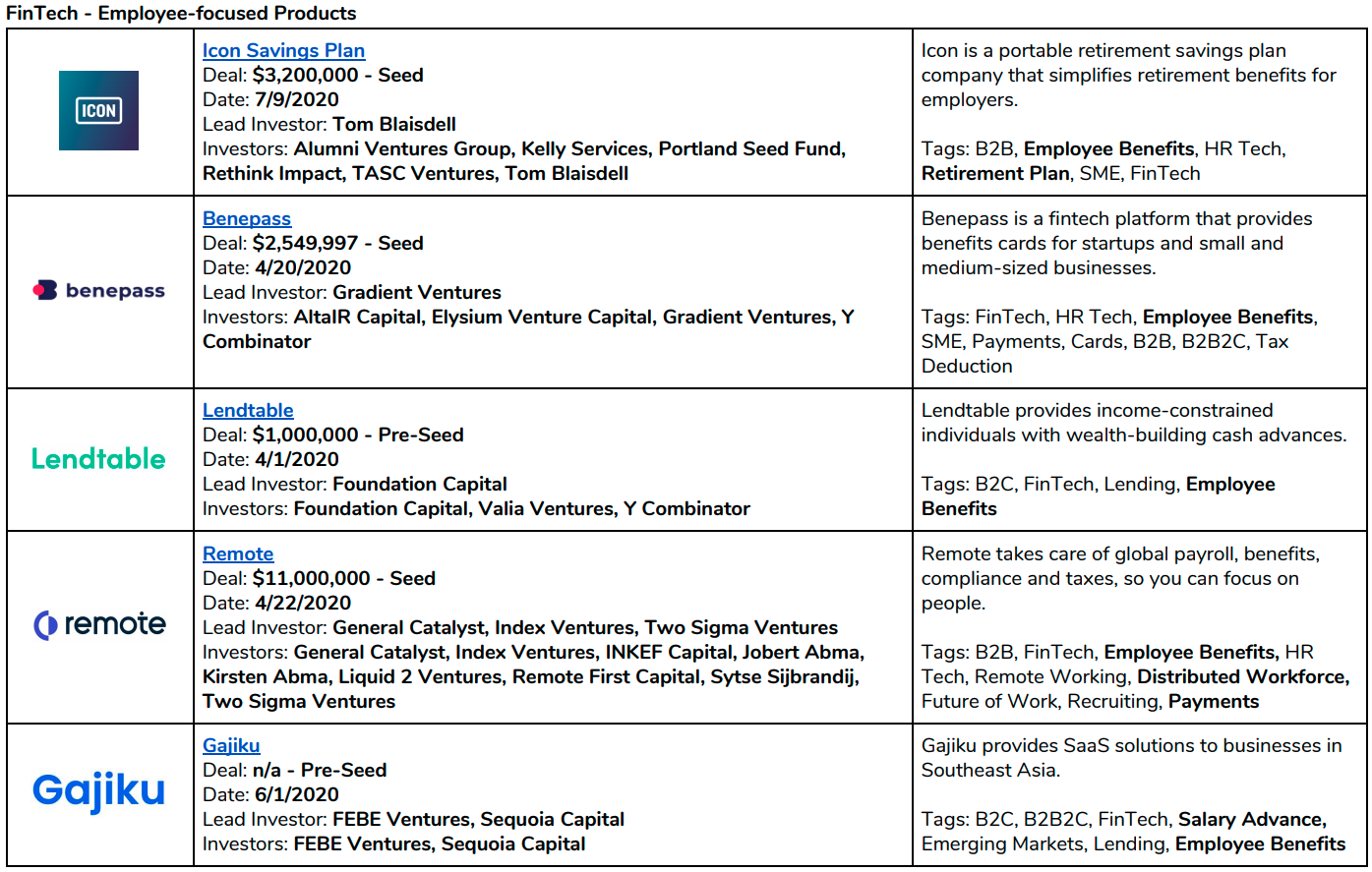 Trend 2: Productivity tools, a safe and demanded space to invest during an economic downturn
Improving productivity is not a new topic in the startup world. There are 38 companies tagged as productivity tools, RPA, and/or data integration/data visualization. This space is very hot this year probably because of the following reasons:
New challenge — more platforms are being used by companies, and tools are needed to consolidate those platforms to improve productivity.
New challenge — people are working from different locations, and tools are needed to help employees to collaborate.
New technologies available — with the development of AI (including ML/DL, computer vision, etc.), startups can build better RPA tools to help companies automate more mechanical/semi-mechanical jobs that couldn't be automated before.
New macro-environment — productivity tools can offer immediate benefits to customers, and investing in these companies may represent a low risk, which is what investors are looking for in 2020 to counter the high uncertainties.
Overall, these startups are not making huge disruptive innovations, but the value they bring is straightforward and immediate.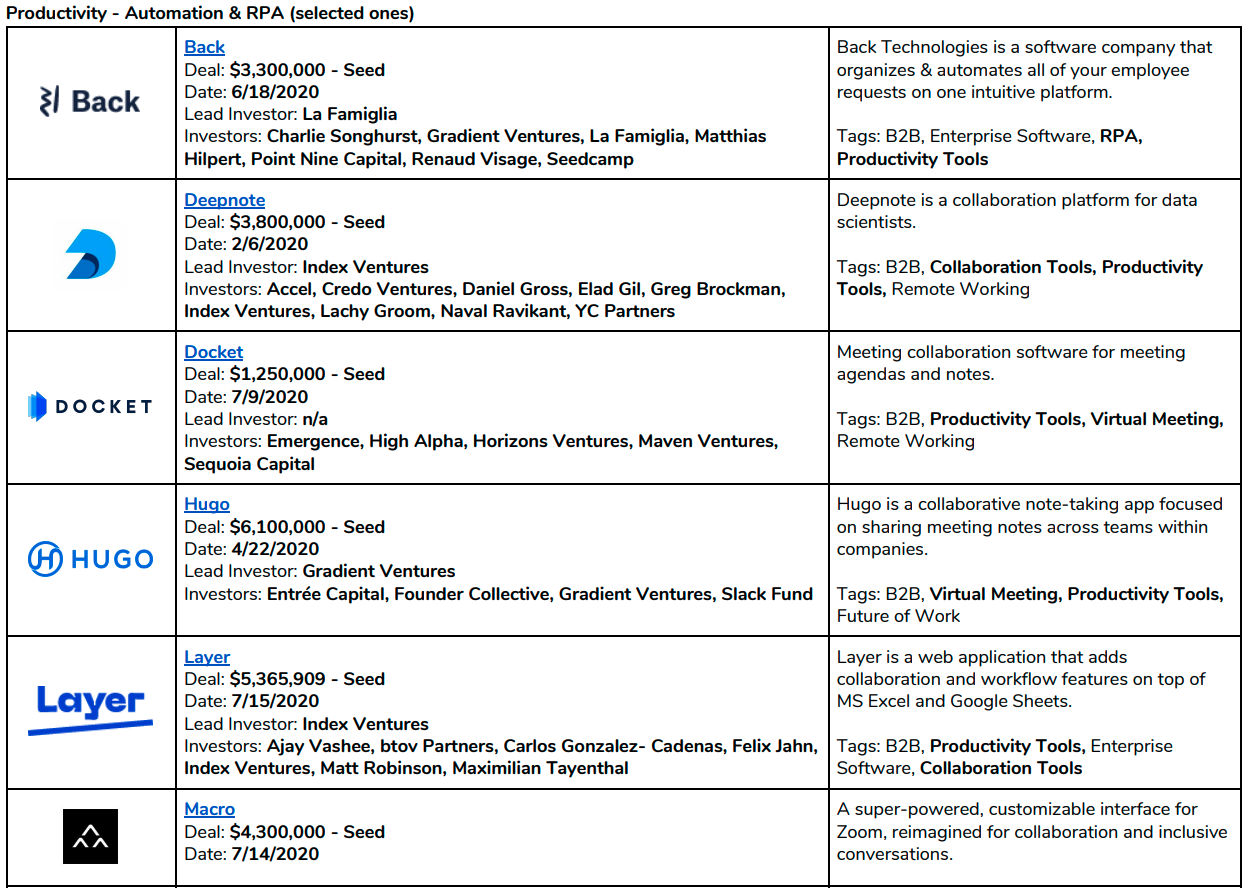 Among the startups that are helping to improve productivities, there is a big subgroup of companies working on data integration/visualization. With 13 of the 38 companies working in this space, this trend is worth mentioning, and it aligns with the first challenge that is mentioned above — too many platforms/tools are being used within a company today.
These data integration/visualization startups are leveraging APIs from the apps (e.g. Google Drive, Slack, Salesforce, etc.) to build a platform that enables people to search data, send commands, plan workflows, and sync data across different platforms in one place. The underlying drivers for the demand of these tools include:
More platforms are being used, and data is stored in different places, makingit difficult to search, compare, and sync.
Many platforms are utilized by specific teams but not the entire organization, making it difficult for these teams to exchange data with each other.
The same set of data needs to be presented to different users (e.g. developers, business leaders, and executives, etc.), while it is difficult to present data for different use cases.
However, given that there is not a high technical entry barrier for many of the productivity tools that these startups are working on, it is highly likely that it would be a big challenge for these startups to scale, particularly to grow to a unicorn. A fierce competition can be expected, the growth is potentially capped, and the investment return would possibly heavily rely on what price investors get into the deals at.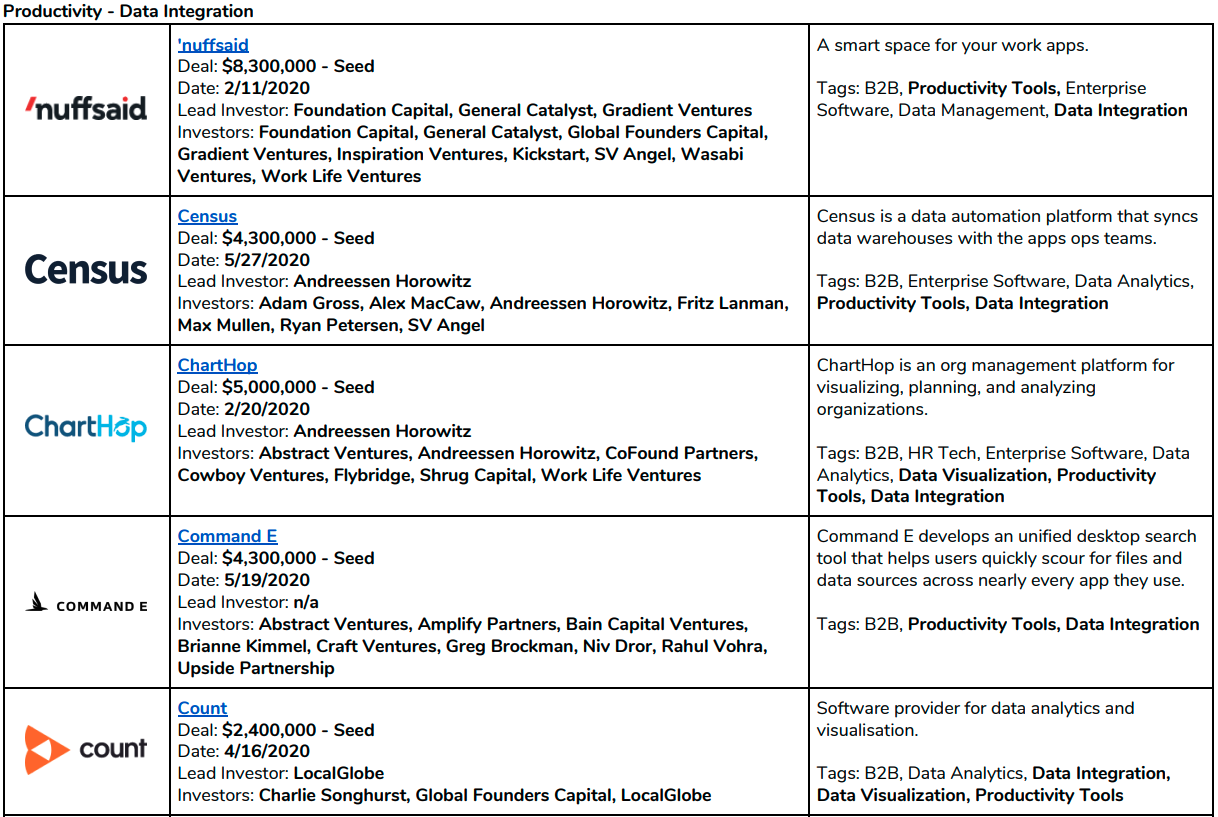 Trend 3: Digitization is a big trend with a focus on SME and emerging markets
As analyzed in another post, SME digitization is a big topic that attracts a lot of entrepreneurs and investors recently. The conclusion is in line with what happened based on the deals from the top tier VCs. There are 32 companies (33 deals) tagged as SME and/or digitization — with 25 tagged as digitization and 21 tagged as SME, which is showing a high correlation. Among these 32 companies, 8 of them are serving SMEs from the emerging markets.
There are many reasons why this space is becoming hot:
Historically low tech adoption — SMEs are historically left behind in terms of adoption of the very basic technologies.
Underserved market — most of the existing startups have been trying to capture the big opportunities and low-hanging-fruit opportunities on the B2B (large enterprise) and B2C sides. While the SME sector are often ignored by tech companies due to a lower willingness to pay (WTP) compared to large enterprises and a lower scalability compared to the consumer market.
Big opportunity — in many countries, SMEs are contributing a significant portion of the economy. For example, with 34% of its GDP coming from informal businesses, Latin America and the Caribbean is the region with the most active informal economy in the world. For some other regions such as Sub-Saharan Africa and South Asia SMEs also contribute more than 30% of the local GDP.
Feel free to take a look at our previous analysis about SME tech here.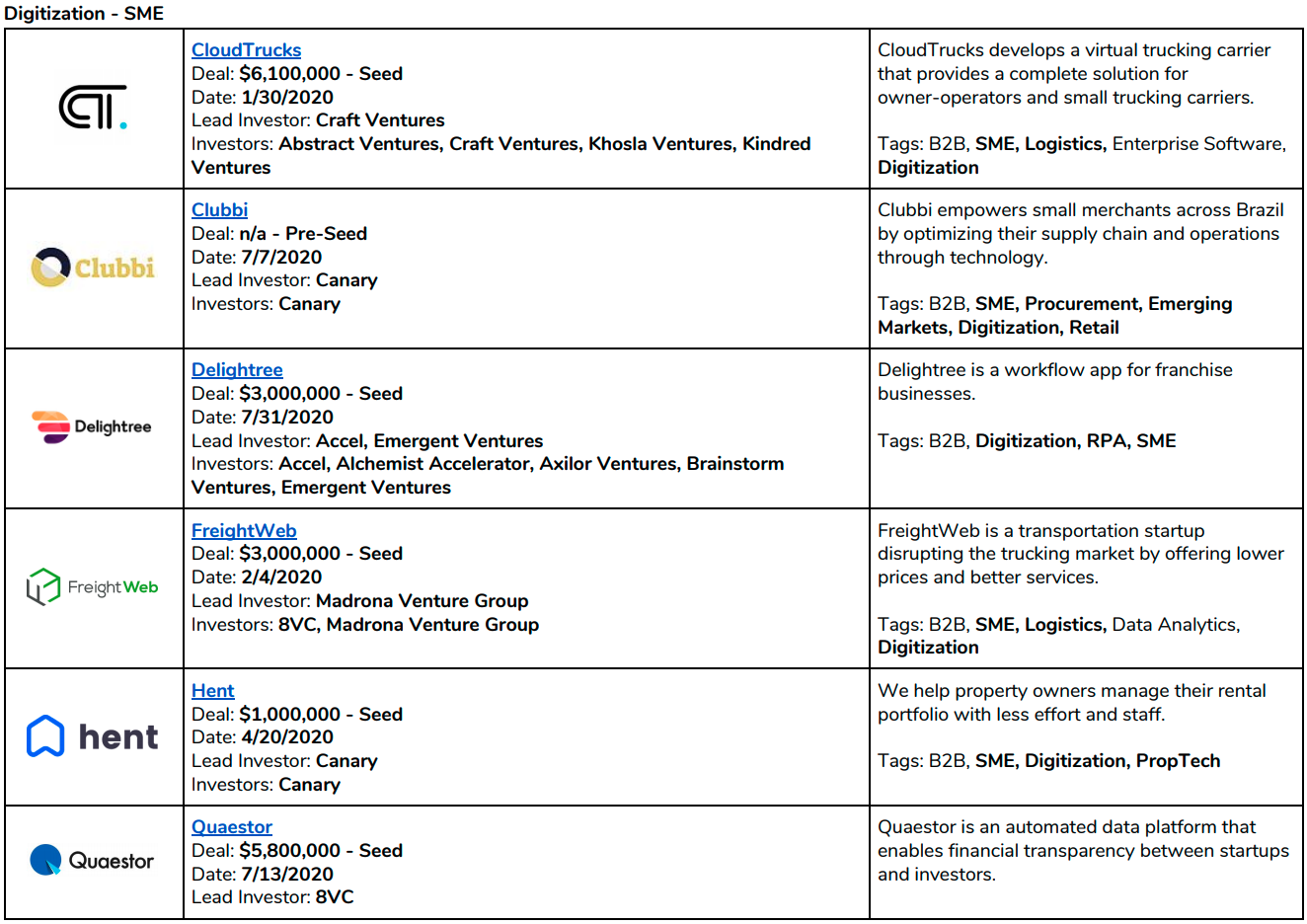 Trend 4: Remote working is not just about video meeting
It sounds very obvious and reasonable to everyone that a lot of startups founded this year are working on products that enable people to work remotely, join meetings and attend conferences virtually, and sync/collaborate online from different time zones.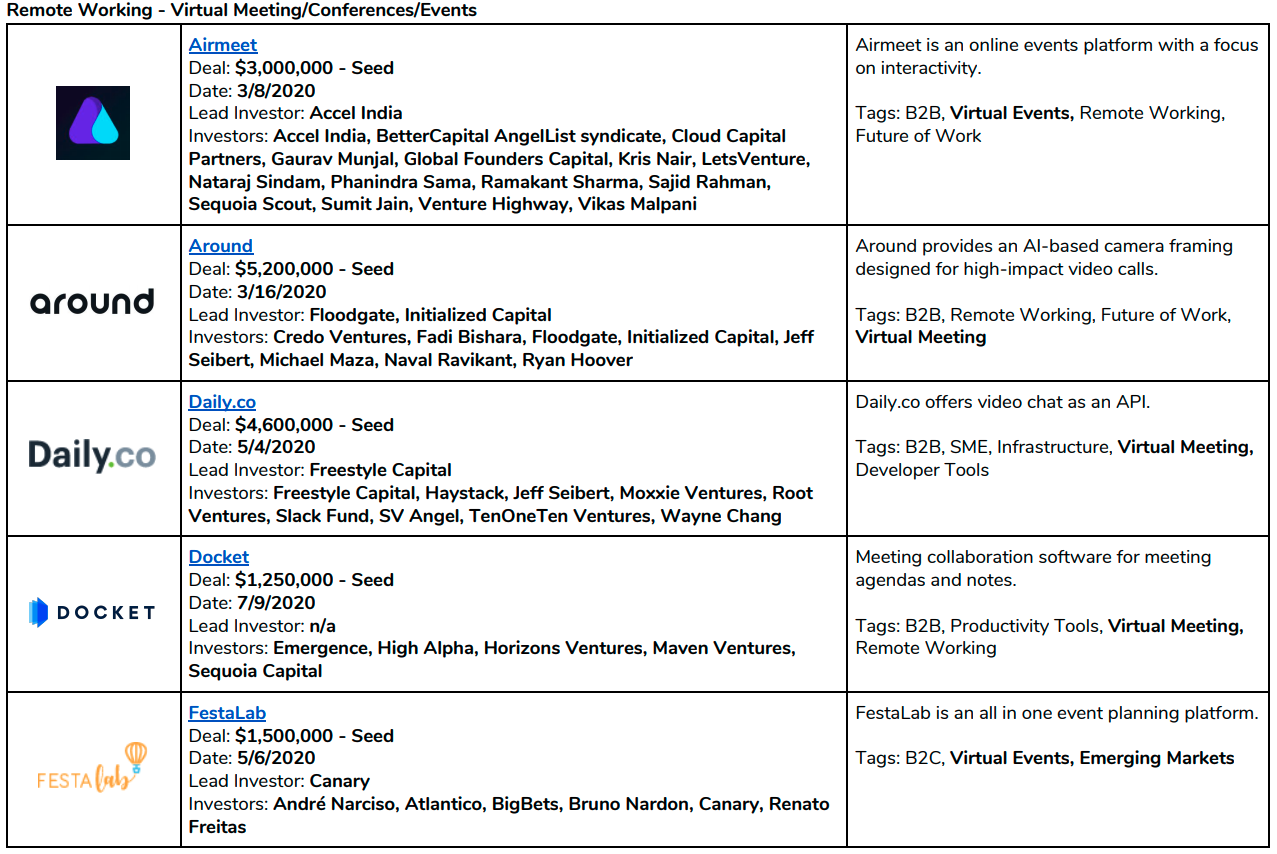 On top of that, since the work mode would probably be permanently changed after COVID 19, companies will also need other tools to accommodate this big change for every aspect around an employee's experience at a company — hiring (online assessment, video interview, offer management), onboarding, payroll (payment, tax, compliance for different countries), employee benefits, team building, training, performance review, daily report, remote access control, and exit. For example, HRs will need tools to assist with interviews online through videos, payroll systems to pay global employees, and benefit programs that are tailored for employees from different countries.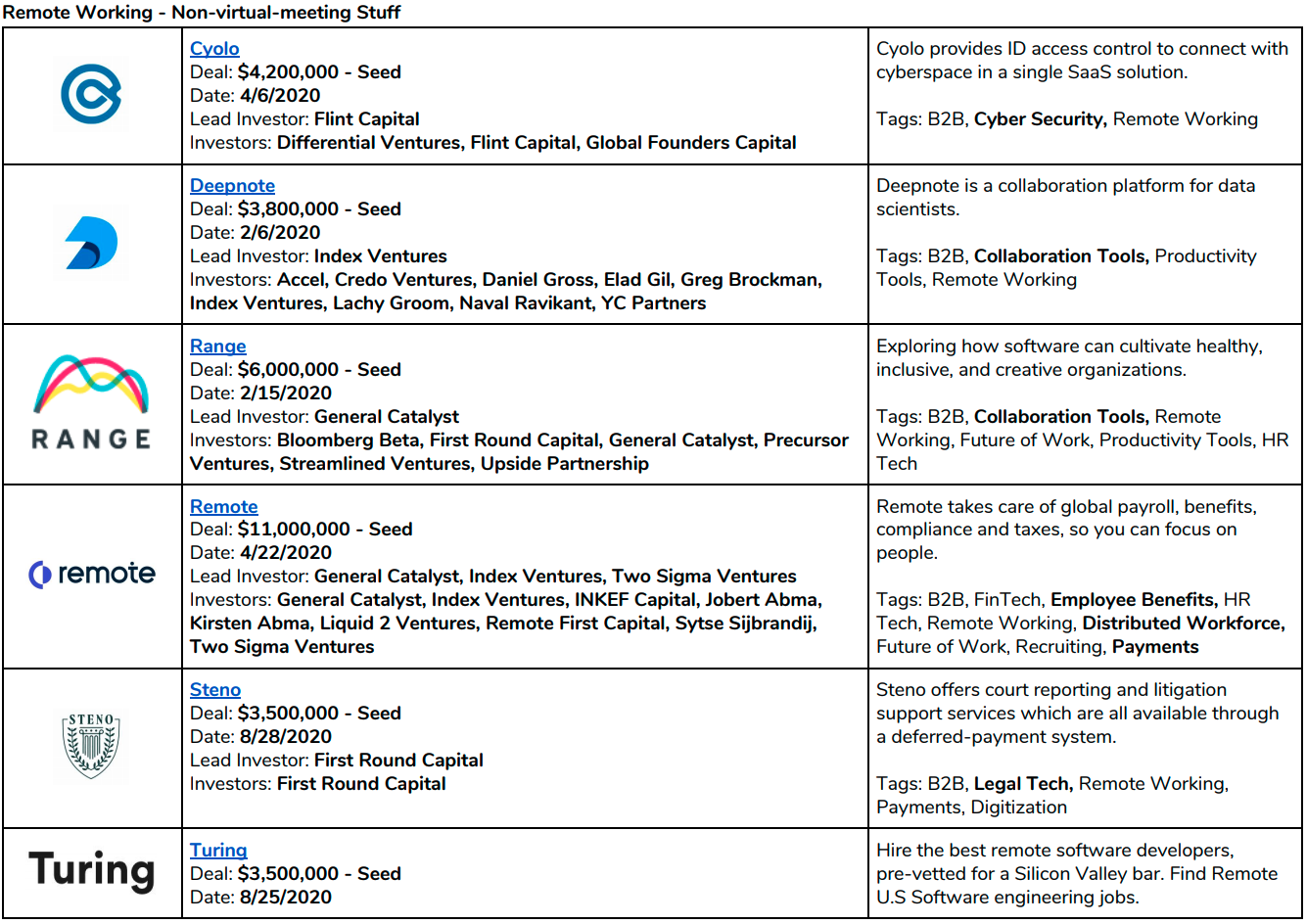 Trend 5: Startups are building developer-centric tools that become infrastructures for new innovations
An interesting group of companies that receive funding from the top tier VCs this year are the companies building developer-centric tools. Many of these tools are designed to be an infrastructure level for new innovations. There are 20 companies that are tagged as "developer tools" with 13 of them being tagged as "infrastructure".
This trend partially aligns with the SME tech trend — not every company, particularly SMEs, can afford hiring many developers to build all the wheels from scratch. However, many companies still want to have their own customized e-commerce storefront, websites, and AI models, etc. Therefore, the developer-centric tools can help these small companies to easily build their own stuff with just one or two developers.
This trend is also driven by the FinTech replication trend and the emerging markets trend. Infrastructure platforms such as Plaid, Stripe, and Braintree are still not available in many emerging countries. Startups are building Plaid for UAE, Stripe for Brazil, etc. to enable FinTech innovations in those markets.
Lastly, this trend is driven by new demand. For example, with the growth of video meetings, it is likely that more video-based applications would be developed. Startups are building developer-centric video platforms (e.g. two lines of code to build video chat applications) that enable other companies to build video-based applications.
Some of the developer-centric tools include:
Developer/business people-friendly data analytics and business intelligence platforms
Data-scientists-friendly AI model building platforms
Developer/business people-friendly e-commerce platforms
Developer/business people-friendly video chat platforms
Developer/business people-friendly web development platforms
Developer/business people-friendly game development platforms
Developer/business people-friendly payment platforms
Developer/business people-friendly financial data (bank account integration, payroll account integration) platforms
Developer/business people-friendly KYC/check imaging/money transfer/tax reporting platforms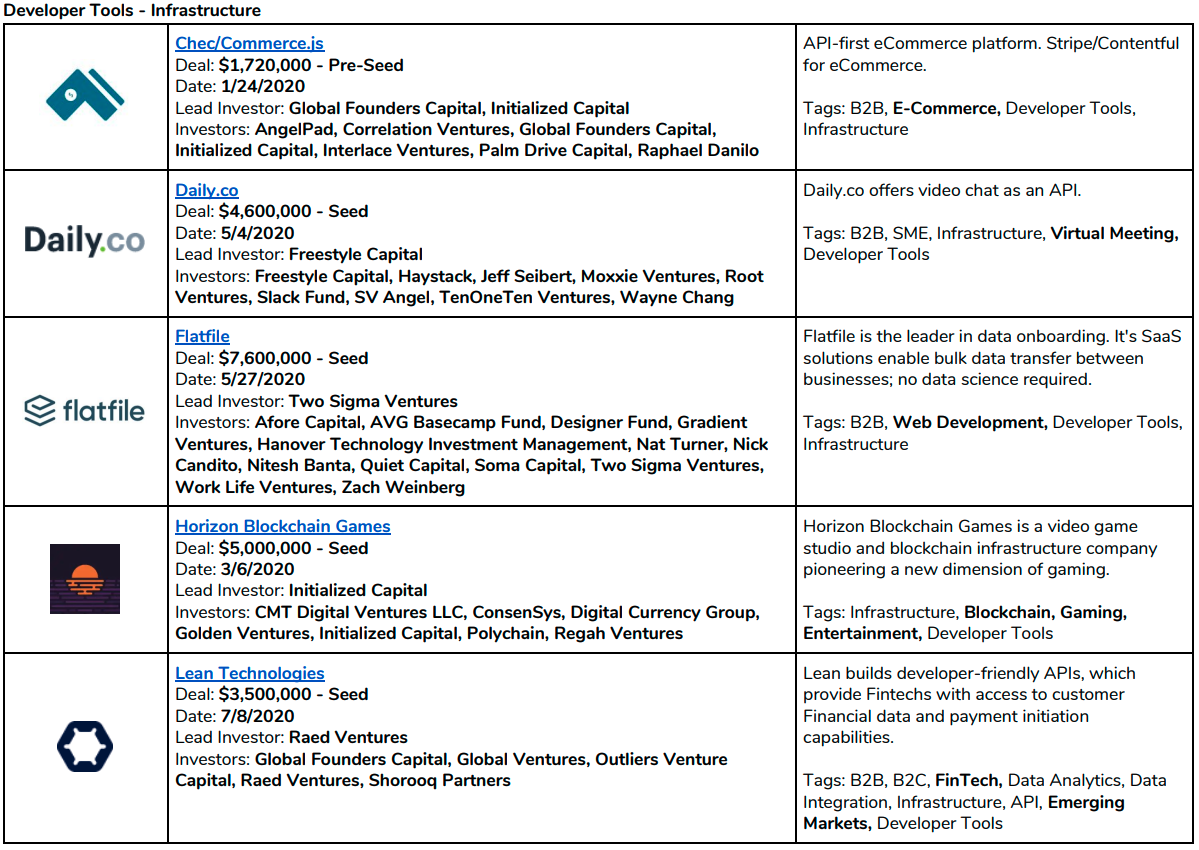 Trend 6: Health space continues to be hot and sees opportunities from emerging markets
Similar to FinTech, health is another topic that has been popular for a couple of years. There are 19 companies tagged as health, and most of them are working on the traditional healthcare topics such as telemedicine, therapeutics, healthcare services (e.g. elderly care), and mental health (e.g. apps that help consumers to track their mental issues, share therapies, and find mental health therapists, etc.).
A trend that is worth mentioning is the digitization of healthcare service providers.
At the intersection of digitization and health, startups are helping hospitals, clinics, and other health service providers to digitize their procurement systems, operation systems, and payment systems, etc. 5 of the 19 health companies are working on digitization-related technologies.
Moreover, many of the health-related investments are happening in emerging markets, where the infrastructure is relatively poor, the digitization level is low, and the demand (both from service providers and consumers) is huge. 6 out of the 19 companies are targeting the emerging markets.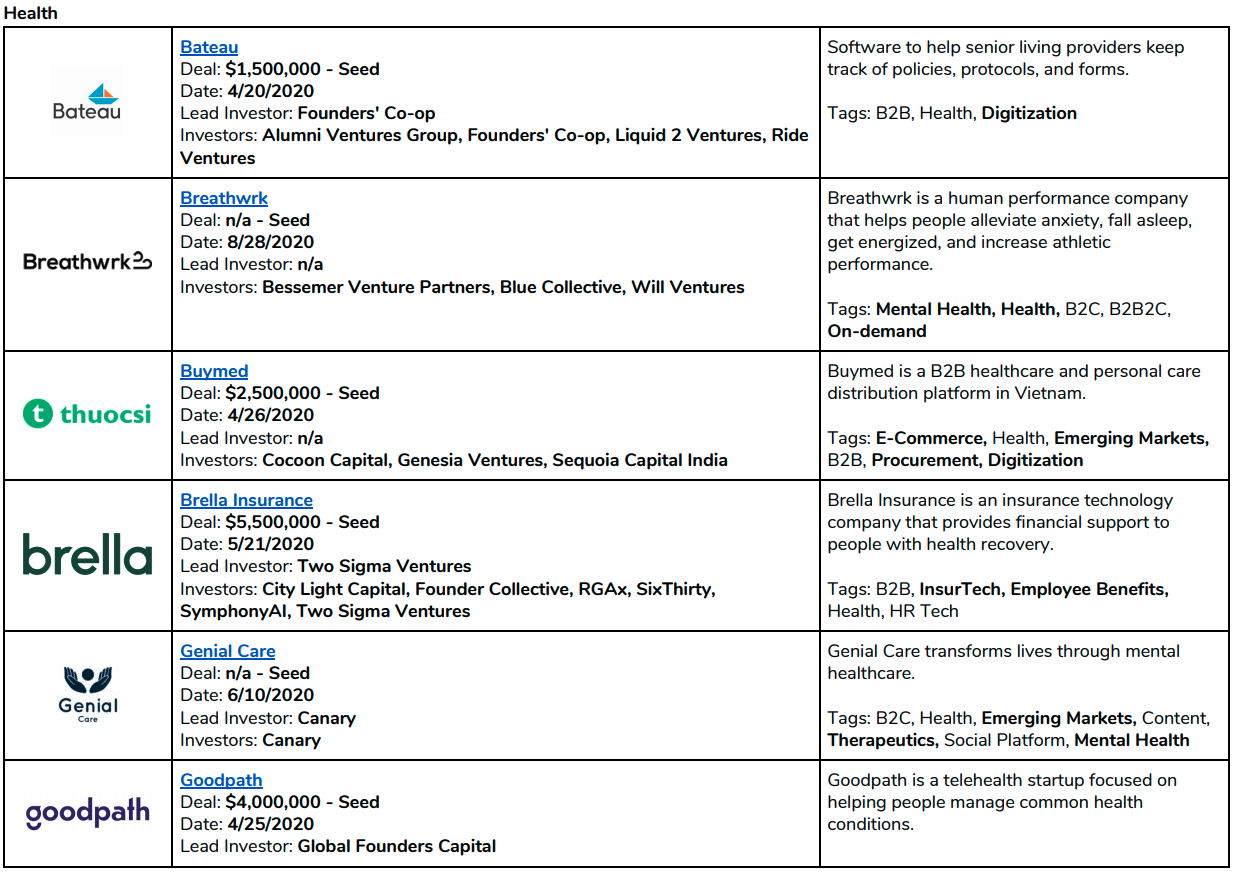 Trend 7: Employee benefits is a key focus for HRtech in 2020
Employee benefits is not a new topic. This investment trend is part of the digitization trend and the remote working trend. Startups are developing tools to digitize the management of employee benefit programs for HRs, to streamline the HR and employee user experience across different platforms and tools, and make the benefits more customizable and tailored to different employees (e.g. employees from different countries and different demographic groups).
There are 16 companies tagged with HR tech, recruiting, and/or employee benefits. Among these startups, 6 are associated with employee benefits by offering:
Better retirement plans to replace 401K
Better health/dental plans that are customizable, easy to manage, and fully digitized
FinTech products that help employees to save on tax
Benefit programs that cover employees from different global locations
Salary advancing options
For the other HRtech companies, they are focusing on remote working, remote hiring, tax deduction technologies, and productivity tools — topics that have been explored in the trends above.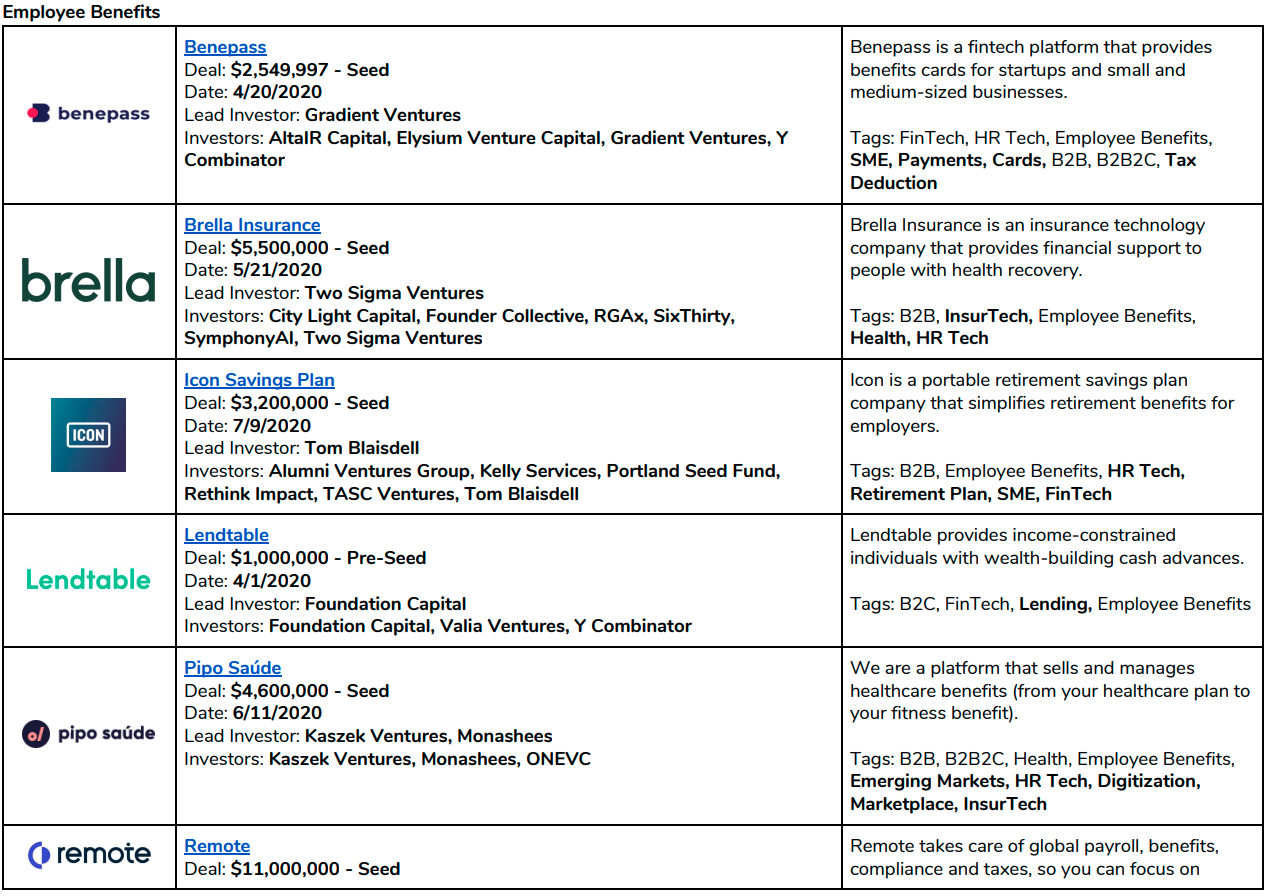 Surprises
Some of the spaces used to be very popular. However, these spaces have not received much funding from the top VCs so far in 2020. For example, only 3 companies are from the InsurTech space among all the 212 deals. Besides, 3 companies are working on mobility, and 3 companies are working in the travel and hospitality space. 5 companies are from the DevOps space. 8 companies are from the AI Platform, Synthetic Data, Data Privacy, Quantum Computing, and Space Tech verticals combined.
This is understandable to some extent. Mobility, travel, and hospitality are the spaces hit most by COVID 19. While technologies around AI platforms (e.g. data labeling, model building, performance monitoring platforms), synthetic data, data privacy, quantum computing, and space tech are not bringing in immediate benefits to customers, making these topics less attractive to investors in this economic downturn.
Another interesting finding is that — the top VCs are just making slightly fewer deals in 2020 compared to previous years. However, the situation might be very different for those less competitive VCs, which might find it extremely hard to find good deals in 2020 as most of the few high-quality deals from this year have already been captured and concentrated by the top-tier VCs.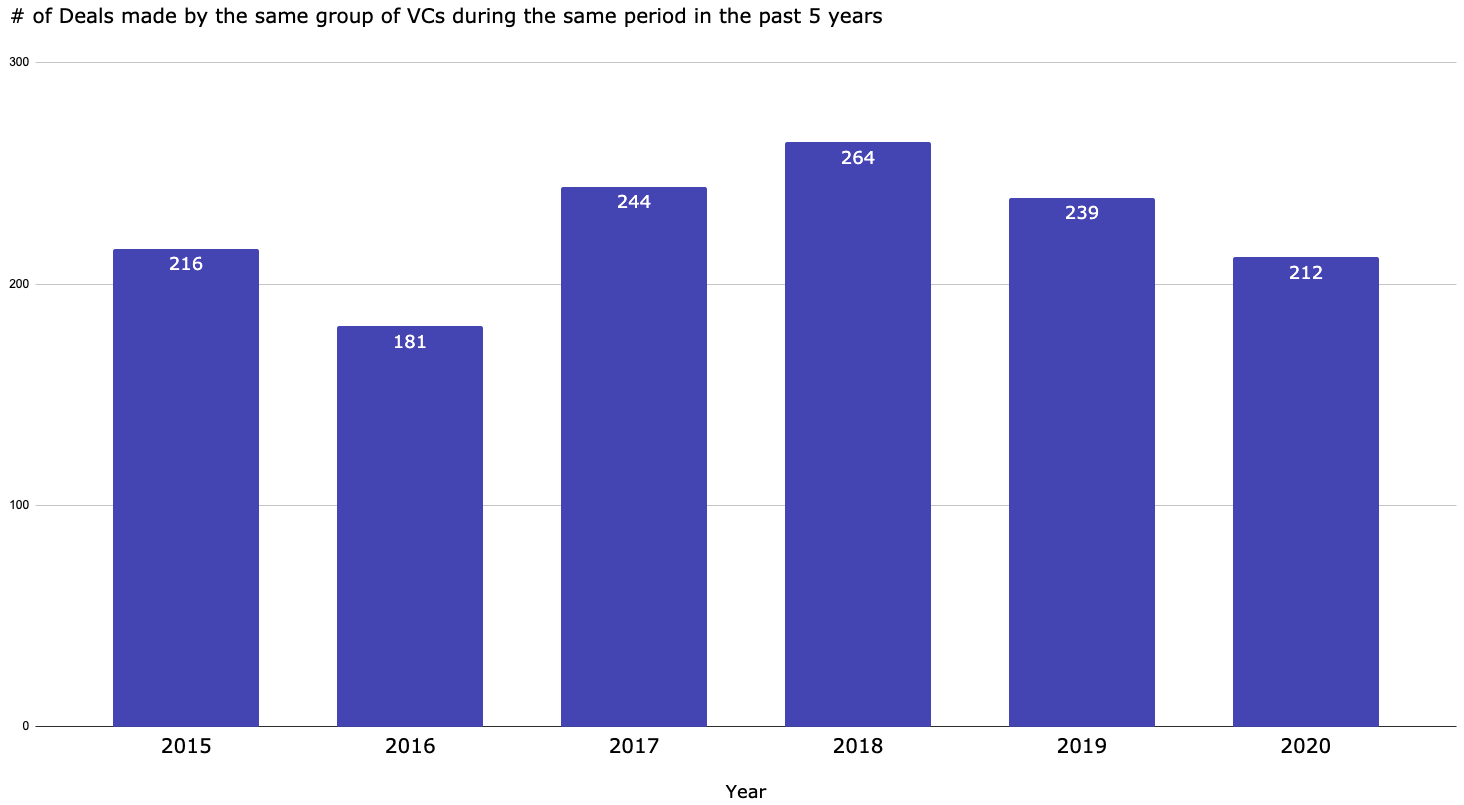 Last but not least, with 100 deals (47%) not coming from the mainstream trends, it is possible and understandable many of the deals made by the top early-stage VCs are quite opportunistic — a strong team finds a niche space (but still presents an OK opportunity), and let's invest in the team.
—
This research is conducted by Fan Wen at Plug and Play Ventures.
Disclaimer: The article is not, and should not be regarded as "investment advice" or as a "recommendation" regarding a course of action, including without limitation as those terms are used in any applicable law or regulation.
Data source: 212 deals from Crunchbase (from 1/1/2020–9/3/2020)
List of VCs covered: 8VC, Accel, ALLVP, Alumni Ventures Group, Andreessen Horowitz, Bain Capital Ventures, Benchmark, Bessemer Venture Partners, Canary, First Round Capital, Foundation Capital, Founders Fund, General Catalyst, GGV Capital, Global Founders Capital, Gradient Ventures, Greylock, GV, Index Ventures, Initialized Capital, Jerusalem Venture Partners (JVP), Khosla Ventures, Kleiner Perkins, Lightspeed China Partners, Lightspeed India Partners, Lightspeed Venture Partners, Lowercase Capital, Magma Venture Partners, Menlo Ventures, Monashees, New Enterprise Associates, Sequoia Capital, Sequoia Capital (SSF), Sequoia Capital China, Sequoia Capital India, Sequoia Capital Israel, Social Capital, SV Angel, True Ventures, Two Sigma Ventures, Venrock, Vertex Ventures, Vertex Ventures Israel